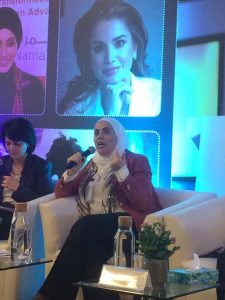 H.E. Wafaa Bani Mustafa participated in the global conversation entitled "Raising the Case on Female Leadership" as part of the global conversation "Athena40" which is held for the second time. This was held on Monday 2/3/2020 within the celebration of the world's International Women's Day. It is worth noting that a number of ambassadors attended the conversation, including the Ambassador of the Kingdom of the Netherlands, Her Excellency Mrs. Barbara Joziasse; the Ambassador of Canada, Her Excellency Donica Pottie; and the British Ambassador His Excellency Edward Okden.
Bani Mustafa referred to what has been accomplished by Jordan with regard to women in leadership positions and said: "We have moved from the stage of 'Why women in political life?'" To 'How do we increase the involvement of women in public life?' She explained that legislation, laws, and the quota system helped women to enter the parliament and said: "Women began entering the parliament in 1993 with one woman, (H.E.Tujan Faisal), but now the number of women has become 20." As for the percentage of women participating in political life, she indicated that the percentage of women in the House of Representatives reached 15.4% and in the senate 15.3%. Moreover, she indicated that the percentage of female ministers reached 25% during the era of the government of Dr. Omar Al-Razzaz, as the number of women reached 7 women, then the percentage decreased, as the number of women became only 4 in the last cabinet reshuffle, and said: "The process is not stable, and therefore we need more guarantees through the constitution and laws." She emphasized that the government is now about to raise the representation of women in the local administration law to 50%. She said:"It is necessary to reach a unified rate in the representation of women in the parliamentary, decentralization and municipalities elections, which is 50% according to the fifth goal of sustainable development." She emphasized that the percentage of women's representation in places where decision-making is needed and through which they can change is negligible compared to their representation in other fields through which they cannot make decisions and change. In this regard, she pointed out that Jordan is ranked 113 in bridging the gap with regard to women political empowerment, according to the gender gap report issued by the World Economic Forum. She stressed the need to catalyze the political will to enable women occupy leadership and decision-making positions and indicated that women are still far from some institutions such as Sharia courts, the Constitutional Court and the Anti-Corruption Commission. She noted that the government should develop a gender sensitive policy and reflect it on legislation, laws and regulations.
She affirmed her commitment to continuing the struggle for women's rights, her commitment to continuing to support and train girls and future women leaders to engage in public life, and her continued fight against political and cyber violence.